Defibrillators
For prices, please contact us for a quote.
---
Lifeline AED by DefibTech Package
The Lifeline AED has a simple two button user interface, clear, calm voice prompts, brightly lit progress lights and actively illuminated status indicator. This turn-key kit includes, one LifeLine AED, one battery pack, 2 sets of adult AED Pads and a carry case filled with needed accessories.
---
Adult Defibrillation Pads Package
This package contains one pair of adult defibrillation pads for use with the Lifeline AED and the Lifeline AUTO. These pads are for adult use only (8 years or older). Pads should be stored connected to the AED. Extra pads can be stored in the available carrying case. Pad package has a two-year shelf life.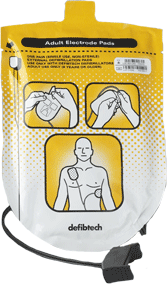 ---
Five-year Replacement Battery Pack
This replacement battery pack has a standby life (installed in the unit) of 5 years (including daily, weekly, monthly and quarterly self-tests), 125 defibrillation shocks, or 8 hours of continuous operating time. Each battery pack comes with a new DAC-410 9-volt lithium battery.